How to book video classroom for video taping


1  Make a booking
WKU IT will send the video link to you after the day of recording.

Step 1 

Open a brower and go to  www.wku.edu.cn   Then click "My WKU" on the top.
Step 2    
Type in your WKU Email username and password then click Login
Step 3    Click "Resource Booking"
Step 4  
 Please click "Make a booking" on the left of the page after enter the resource booking system. Then choose "VIDEO CLASSROOMS"on the main page.
Step 5
Choose a video classroom that you want to record.
Note: CBPM set the rual that please contact to college secretary who is in CBPM 509 if you want to book video classoom in CBPM.
Step 6
Select a time that you want to reserve.
Step 7
Please fill in the form that popup. Click Book.
Step 8 
WKU IT will receive your request of booking. IT person will approve it if the video classroom device are no problem for video taping. You could turn to notifications to see whether your request is approved.
2  Cancel & Re-edit your reservation
Step 1
Step 2
Click the time that your reserved.  It will pop-up a box. Then you can edit or cancel this resrevation.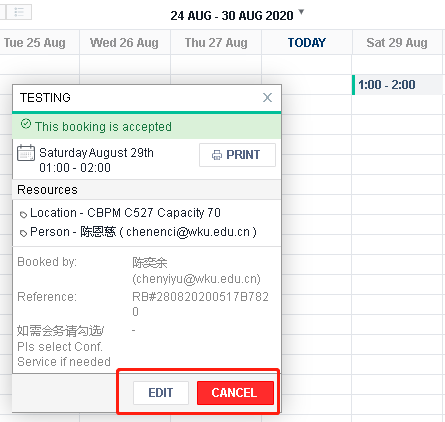 3  View  reservation records 
Step 1  Click "Resources" - "Location"